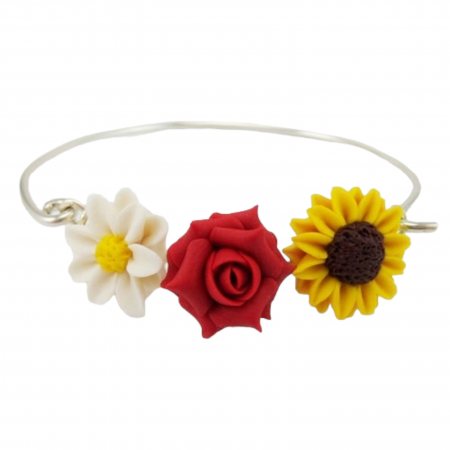 Three Flowers Garden Bracelet
Three Flowers Garden Bracelet
Description
Sterling Silver Bangle Bracelet featuring 3 flowers - white Daisy, red rose, yellow Sunflower. This little flower garden bracelet is available with other flowers from my shop upon request. This bracelet hooks at the flower so it does not slip through you hand. Fits snug around your wrist and looks lovely worn alone.
VIEW COLOR CHART

Each Flower size approximately 1.5cm
Total length : approximately 4.5cm
Thick 925 sterling silver bangle
Pictured Flowers : Sunflower/Apple Red Rose/Daisy
*The pictured 3 flowers can be substituted for any other available flowers or rose color. Please contact for approval.
MEASURING GUIDE
Using a flexible measuring tape, measure below the wrist bone.
For a snug fit, add 1/4" to 1/2".
For a comfort fit, add 3/4" to 1".
For a loose fit, add 1-1/4".

Polymer clay flowers are handcrafted without molds. Sizes are approximate and may vary slightly.

Handcrafted, made-to-order. Ready to ship in 1-3 business days.
PRODUCTION • SHIPPING • PACKAGING