About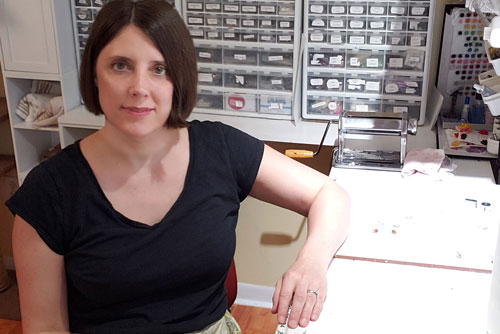 Sharlene Maher at her home studio.
Stranded Treasures is an original handcrafted jewelry collection established in 2006 by clay artist and designer Sharlene Maher. Offering an extensive range of floral styles, from minimalistic to intricate, her products have become popular as symbolic special gifts and delicately styled accents for formal and everyday wear.

After graduating from William Paterson University, Sharlene moved from New Jersey to San Francisco. While spending her working hours behind a computer, her personal time was mostly spent outdoors and fulfilling her creative side. Her interest in flowers was met when she studied and volunteered at the city's botanical gardens and in her own learning experiences in backyard gardening. After relocating to Florida, Sharlene started sculpting flowers by way of a macramé hobby that inspired her to create her own floral beads. The beadmaking lead to accessory design and eventually into a product line and her vision to have her own flower shop of wearables came to fruition. Stranded Treasures has now become a successful full-time operation and has expanded from flower jewelry to now offering original handcrafted hair jewelry.
The Process
Each piece is designed and handcrafted by Sharlene in her home studio in Florida. Her technique involves no molds or paint but instead sculpting each petal using a rich blend of color-embedded clays and assembling the jewelry components by hand. Since the entire process is specially made for each order, it allows her to offer a large color palette and style options to choose from and a more personalized shopping experience on handmade products.
---
Press
---