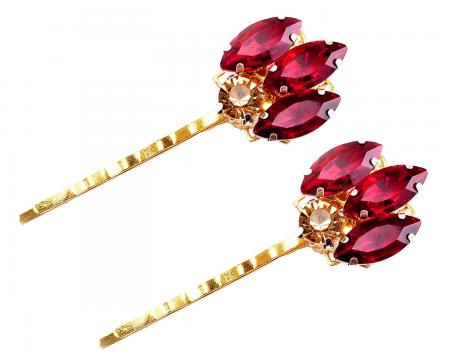 Art Deco 1920s inspired Siam Red Bobby Pins
More images
Red Bordeaux Champagne Rhinestone Bobby Pins
Description
Handcrafted Red Bordeaux Champagne Rhinestone Bobby Pins Art Deco design inspired. Hand designed glass rhinestones with filigree on sturdy silver, gold or antique brass color hair pins.
-Glass Rhinestones: Ivory, Red
-Length : 2 1/2 inch across
-Jewel Design : about 1 inch
-Quantity : Set of 2
-Hair Pin Color: Choose silver, gold or antique brass (rhinestone settings are a platinum color)
-Hair pin tension provides a firm grip and works well with thin and thick hair.
Handcrafted, made-to-order. Ready to ship in 1-3 business days.
PRODUCTION • SHIPPING • PACKAGING